Forestville Youth Park Skatespot
Join the Forestville Skatespot Committee and the Forestville Youth Park in our second annual 5K/10K Fun Run!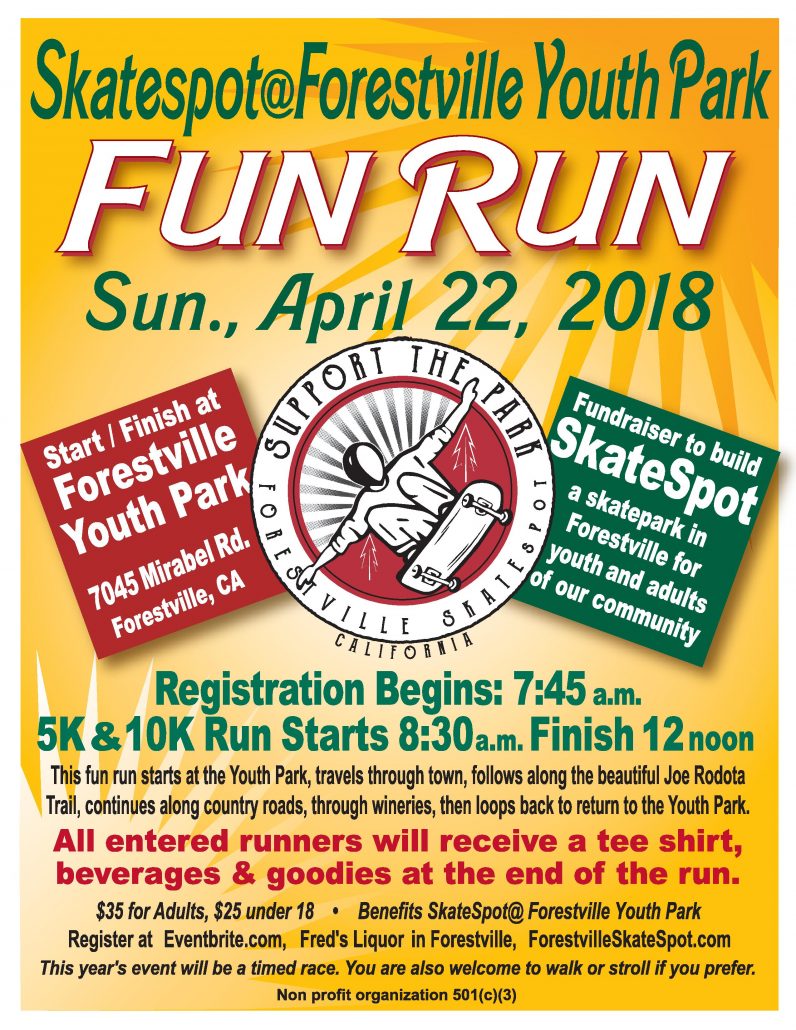 The park Board is working with the Skatepark committee to raise funds to build a "skatespot" adjacent to the Park property (in the next few years). They are holding several fundraisers, including a "Fun Run" in April.
Ellery Kuntz is leading this effort to get a safe place for youth to skate.
My Name Is Ellery Kuntz and I am an El Molino High School student with a life long passion for skateboarding. Over a year and a half ago, I approached a non profit organization, the Forestville Youth Park, on behalf of my dream – building a community skatespot. Forestville has been my hometown my entire life and I have participated in activities it offers, such as Little League baseball, and other sports through El Molino High School. As I got older, I began focusing on self competitive activities rather than organized sports. As a passionate skateboarder, I knew Forestville would greatly benefit from a skatepark, whether by generating community involvement from those who normally may not take an interest, or by bringing in families that are both local or from other areas to enjoy skating. This project not only will benefit Sonoma's West County Communities, but all skateboarders, kids who need a welcoming hangout spot, and those who have not yet found their passion.
Join the Forestville Skatespot Committee and the Forestville Youth Park in our first annual 5K/10K Fun Run! Walk, Run, or stroll in the West County while helping the community raise funds for a Skateboarding spot in Forestville. A local skatespot will provide a great place for all kids to meet, be active, try new things, build confidence, and have fun!
This sweet Fun Run starts at the Forestville Youth Park, travels through town, follows along the scenic Joe Rodota Trail, winds along country roads, continues past lovely Sonoma County wineries, then loops back along the Trail to return to the Youth Park. There will be a water stop and restroom facilities approximately 1/2 way. Here you can choose to complete a 5K or continue the loop for the full 10K.
This is a community fun run, not a race, and no timing or prizes will be awarded for place finishes. However, T shirts, goodie bags, and refreshments will be given. Participants will also have the chance to win some exciting donations from the local community!
Do something good for yourself and help West Sonoma County kids at the same time. Sign up for the Fun Run and help build a park!